I LOVE SKETCHES BY TSUNAMI ROSE! DAY 3

Thank you once again for stopping by on my monthly challenge to post one original greeting card sketch a day for the month of February! Please follow and let your friends know!

Again, I'd like to thank all of those who submitted their interpretations of my sketch! And also to all of my new viewers! Please don't forget that you can enter your interpretations all month long! Simply email me your card and a description of the products used and include info about you.
DAY 3 Sketch #28
click on any picture to enlarge!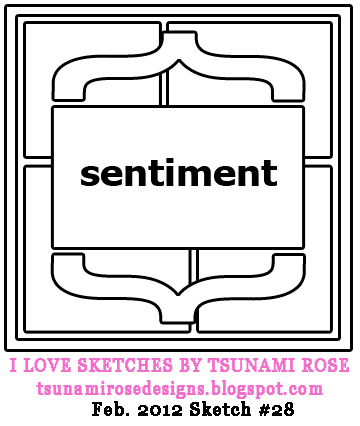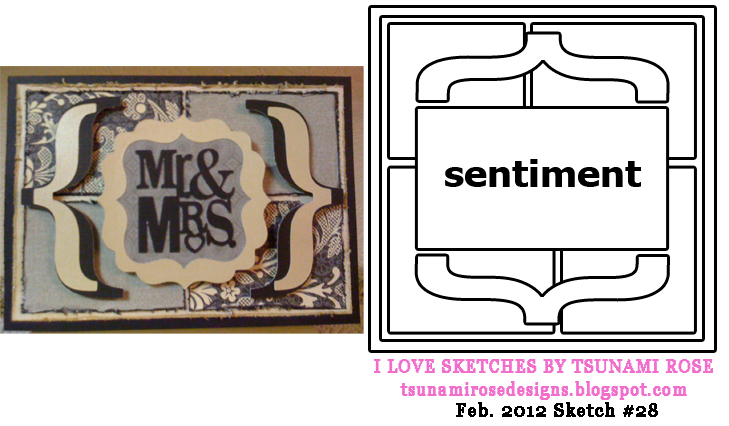 Although the sketch called for a square card. . . I didn't make it square. This is a 5x7 card. The paper is in a DCWV pack called The Black Currant stack. WTF is a Currant, I don't know. But I love this stack! The parentheses are from Base Camp, the fancy edged square is from Elegant Edges. The "Mr&Mrs" is from Sweethearts.
Entries:
I LOVE SKETCHES BY TSUNAMIROSE Design Team Member- Tricia Colon of
Tricia's Place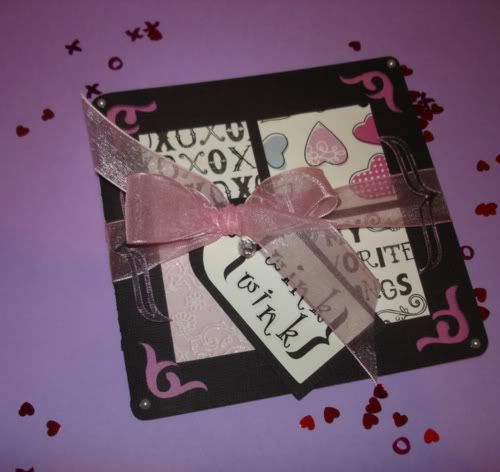 She created this card using "My Favorite Things" paper pack by Recollections. And of course The Art Philosophy Cricut Cartridge. The cuts she used were the Card, Brackets and Bracket Tag featured on page 44 of the Art Philosophy handbook. I love that bow, Tricia! Lovely card!
Chrissy Farley of
Chrissy's Scrappy Place
The butterfly is cut from Pitcturesque cricut cartridge page 65 the butterfly cut with black on 3 1/2 , press the shift key that color was deep red cardstock, and the pattern bloks are a trim of black, a trim of gray and then the butterfly paper called ambrosia winsome pattern paper. Thank you so much for the BEAUTIFUL card submission, Chrissy!
Valarie Dayton Grogan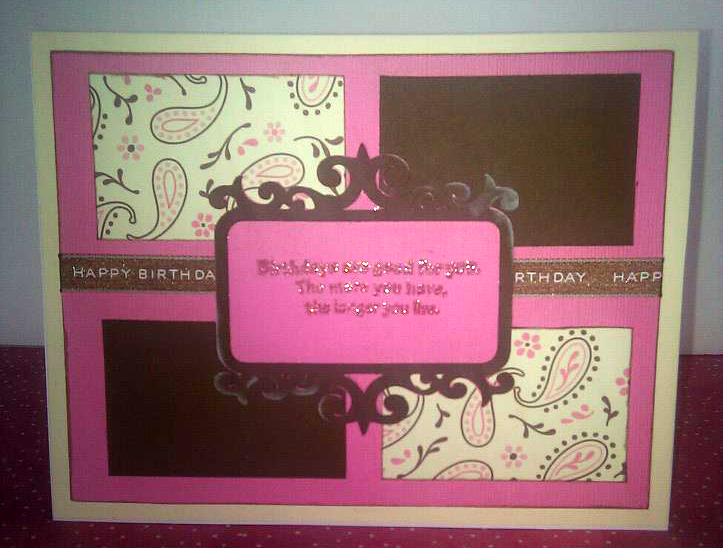 Paper is Making Memories...pink silk scarf, cuts are from Disney Hannah Montana, Ribbon is Martha Stewart. and stamp is from Joann's dollar bin by inkadinkadoo. Love the frame in the middle, Valarie! Great job on this card!
Michele Eickholt of
Chele's Crafts
She used the Art Philosophy cartridge and that additional information can be found on her blog. Gorgeous idea with the ornate corners!
Carisa Antonio Barbarossa
She used the DCWV Latte stack...cut is from lyrical letters and stamp is from Michael's dollar section. Wonderful card! So cheerful!
Sherry Brunner Gibbs
She used patterned paper by My Minds Eye, the cardstock is Bazzil, She used Lacy Labels and Flower Shoppe. The brackets are chipboard that she had in her stash. Great colors, Sherry! Love your card!
Maureen Sherrill
She used her Art Philosophy cart. The stamp is from stampamania.com Thanks Maureen for your gorgeous submission!
Can't wait to see what you guys come up with! Thanks for visiting!
Email me your submissions with info about the card, and the items used as well as your info. TSUNAMI.ROSE@YAHOO.COM