Thanks to everybody for such a great response yesterday to Day 1! I hope we can keep that momentum going! Thank you so much to everyone who participated and made a card! I'm so glad I could help you guys break out or your boxes!
Day 2 now of I LOVE SKETCHES BY TSUNAMI ROSE and we kick it off with Sketch #1! I love this simple design that is GREAT at using up scraps! I use this technique of slicing the same image and setting it just slightly apart to create a background. Turns 1 12x12 page into like 10 cards!!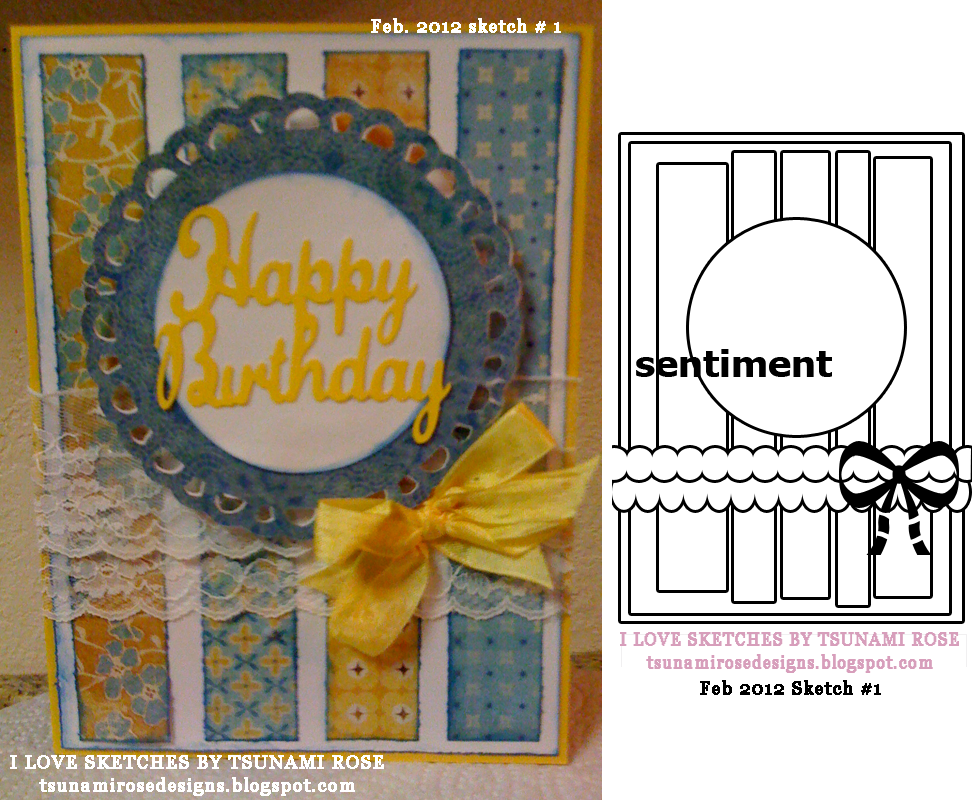 This card is a 5x7 size. The scalloped circle is from one of my newest and favorite cartridge, Elegant Edges. The phrase is from MS Birthday Cake Art. I love that cartridge for all sorts of Birthday phrases!! The paper again is Mosaic Memories by Recollections
Entries:
Tricia Colon of
Tricia's Place
my Design Team Member came up with this little number.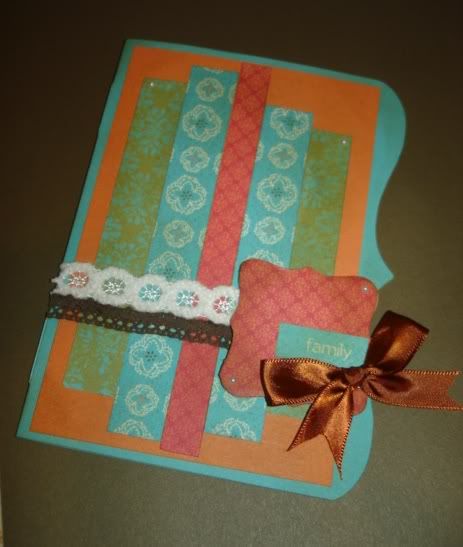 You did a fantastic job missy!! How dare you make me want to make the same shaped card??? She used the Close To My Heart paper called "Stella". The Art Philosophy Cricut Cartridge cut-outs used were: 1. The Card found on pg. 58 of the AP handbook
2. The Top Note sentiment tag on pg. 53
Design Team Member - Veronica Meras of
Scrapbooking with Veronica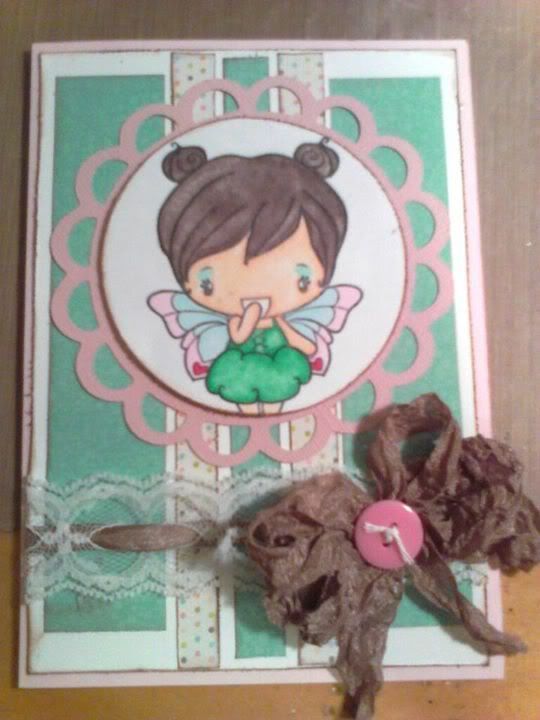 Sherry Brunner Gibbs of
Sherry's Gone Buggy
What a beautiful work of art! Oh, and Sherry the card is nice too! I'm just kidding. Great job, Sherry! It is a portrait style card and most of the paper is studio g scraps. The sentiment is from My Pink Stamper friends and family collection. The punch is Martha Stewart. The oval and scallop oval are Stampin Up.
Michele Eickholt of
Chele's Crafty Creations
I'd like to take Michele Eickholt for playing with us now two days in a row! I appreciate your hard work! She used the new "Florentine" papers from CTMH. She also used CTMH stamp set B1398, Just for You and their exclusive ink, cocoa. Only one cut from the Art Philosophy cartridge today and that is the flower. Flower~~pg 29~shift~flower7~cut @ 2 3/4"
Maureen Sherrill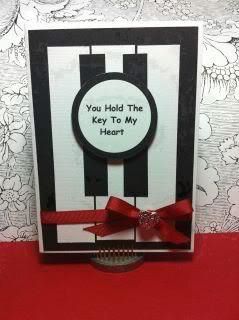 Thanks for your submission! I love the piano key idea! I never would have come up with that!! Also thanks for participating 2 days in a row!
Valarie Dayton Grogan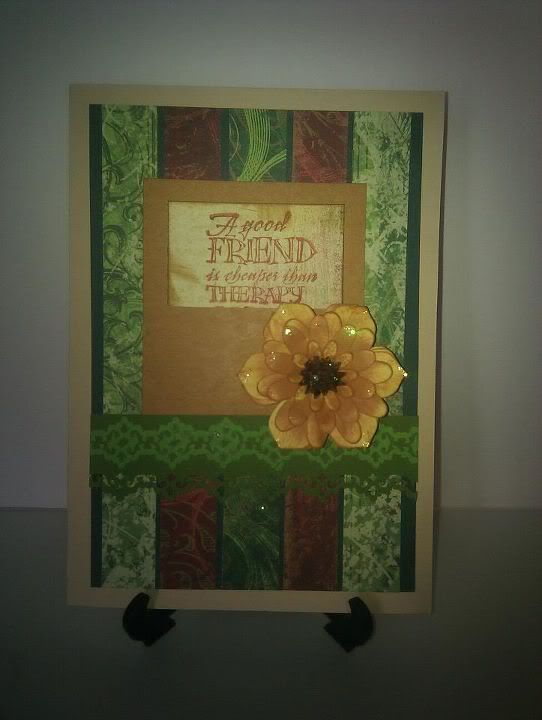 WOW! I feel as tho I'd make this if I was on vacation in Ireland looking out at the country side. . . . too far fetched? Well I can dream big. Anyways, this is such a beautiful card! Thanks for your submission, Valarie! It came out beautifully!
Chrissy Farley of
Chrissy's Scrappy Place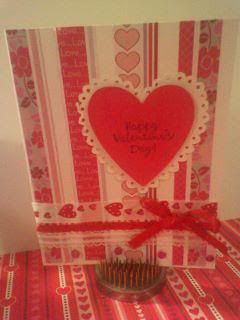 Love the color scheme, Chrissy! Great job girl!
Carisa Antonio Barbarossa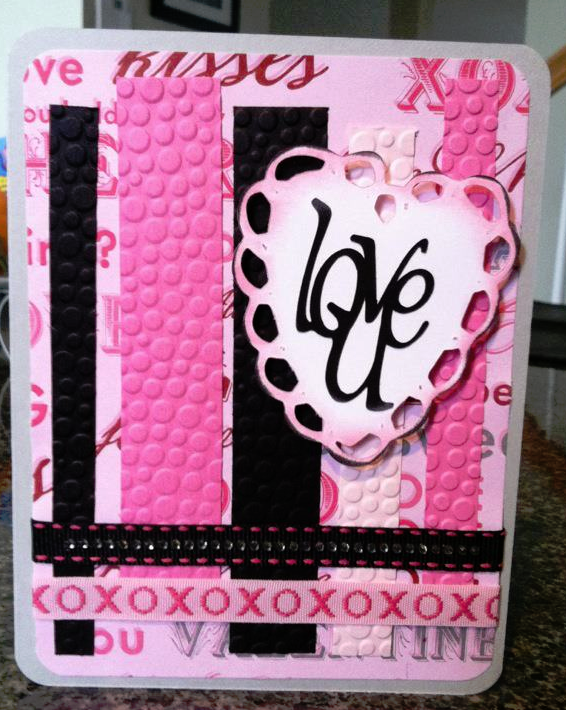 Cuts are from lyrical letters, background & ribbon is from Target "dollar spot" and rest is scraps embossed with cuttlebug folder "tiny dots Great job! Thanks for playing with us!
Shelly Nemitz of
Just One Piece
She used CTMH scraps from her scrap bin! Looks great, Shelly!!
AND REMEMBER I'D LOVE TO SHOWCASE YOUR CARD! EMAIL ME AT TSUNAMI.ROSE@YAHOO.COM