Thank you guys for making me feel special with all of your views and comments! I can't believe I'm getting close to 200 followers and 10,000 views! Thank you guys for contributing with your comments. They really keep me going. If I didn't think you guys liked what I'm doing I probably wouldn't post anymore. LOL. I will soon be making and posting videos! How exciting. :P You guys get to look at my mean mug and listen to my annoying voice. Yaaaaay!
What do you know, IT'S MAY!
Happy new month everyone! I'm so excited for this month to get started! So many things and events going on! And I'm working with such a great new Design Team! I have a couple of announcements for some new items that I am designing that I cannot wait to tell you guys about! But it will have to wait a little while. I'm also excited about me being a designer for SIN CITY SCRAPS. Please make sure to check out their awesome store!
I'm happy to introduce to you my new May Design team!
The first daily sketch challenge of the day is sketch #8
By Tsunami Rose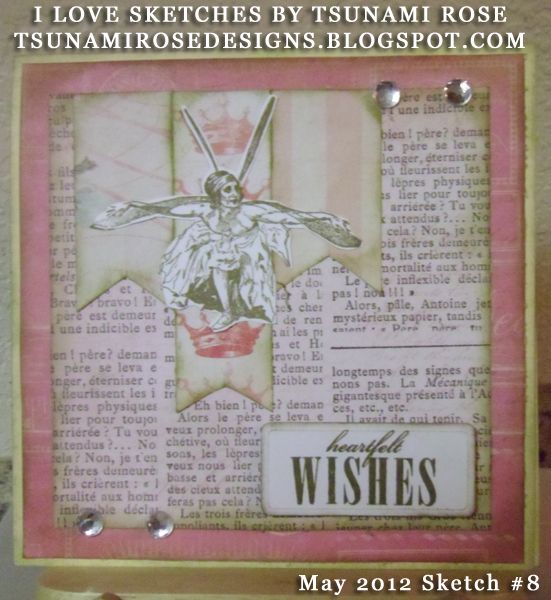 I made this card a 6x6. The paper I used was My Mind's Eye- Lost & Found paper pack.
The fairy image is from Sin City Scraps. I don't particularly like fairies, but I liked this vintage gypsy fairy looking chick. I think she's interesting. My hubby didnt like her so much. LOL.
Please make sure to "Like" Sin City Scraps' FB page! And let her know Daisy sent you!
The sentiment is from
CTMH.
Everything is inked in Desert Sand from
CTMH.
This month I will be using all of my 22
CTMH
ink pads, I might make it 31 by the end of the month, but the goal is to use them as often as possible and in as many cards as possible. I love my ink pads, what can I say?
Please make sure to "Like" Tricia's FB page!
The winners of the 2nd ILS by Tsunami Rose Blog hop are: Tanya Phenis and Scrappin' in heels! I have sent them both a message and will be sending off their prizes soon! Thanks for everyone who participated!! The next blog hop will be May 30th and 31st!
Please check out what my new May DT has done with this sketch!
May Design Team
The only monetary compensation this blog receives is thru the clicks of advertisements. Thank you.