I LOVE SKETCHES BY TSUNAMI ROSE DAY 7!
Thanks so much for joining me on the last day of the first week! I have decided that I will be doing this from now on. An original sketch a day. Due to all the great success! I'm so happy to have about 150+ views a day! Thank you guys so much! Don't forget to email me your submissions that I would be more than happy to showcase under their corresponding sketch. (tsunami.rose@yahoo.com)

And I'm still on the hunt for about 4 more Design Team members! If you are interested please email me three of your most recent works to tsunami.rose@yahoo.com Please be prepared for a lot of work!


Okay, on to today's sketch #19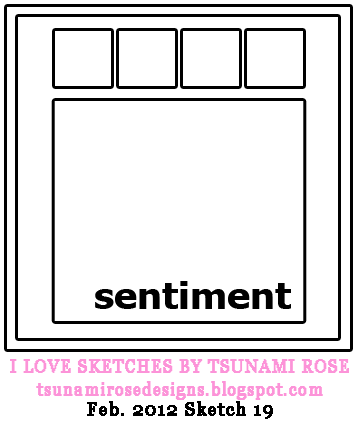 By TSUNAMI ROSE


A simple card that I threw together. The card is a 5x7. The expression is from Studio G from Michaels. The paper is from DCWV The Black Currant. I'm not sure where the flowers are from, I bought a sort of a grab bag from
Veronica Meras.I appreciate all comments! Don't forget to click on the images to enlarge them. :)

Entries:


I LOVE SKETCHES BY TSUNAMIROSE Design Team Member- Tricia Colon

of Tricia's Place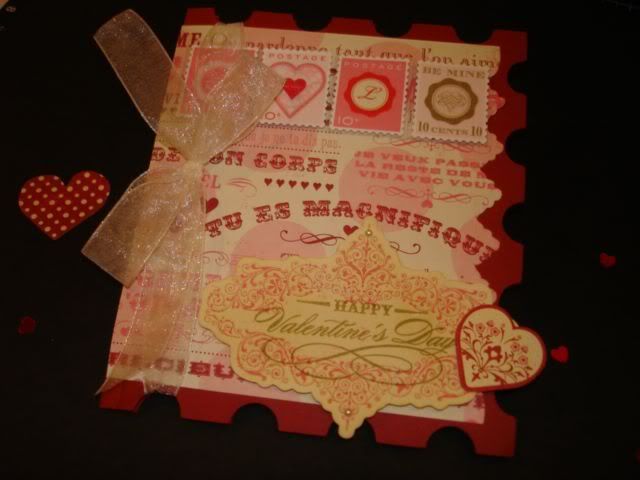 She made a Valentine's Day card today using Making Memories brand paper called "Je t'Adore" She also used some Martha Stewart brand Valentine's Day postage stamp stickers. And the postage stamp card was cut-out using The Art Philosophy Cricut Cartridge. The image shape can be found on pg. 24 of the AP handbook. Great job, Tricia! Super sweet card! Please visit her blog for other great projects! This girl keeps busy!!

Valarie Dayton Grogan.




Made with Bo Bunny Snowfall collection paper stack, Winter Lace cartridge and Pink Stamper Snowflake stamps. Beautiful job! Great easel card!


Michele Eickholt of Chele's Crafty Creations


Please see her site for details. Great job! Love your color scheme!


Abbie Kay of Powered by Fairy Dust


She have used a white card as the base, patterned paper on the top, she have added four green square Gems but turned them round. She then used her nestie dies to make the shape in the middle embossed with Ivy leaf and lightly inked with green ink. She then stamped a music image and added Poison Ivy sentiment Very cute card! Love the gems.



Maureen Sherrill






What a cute idea! It would make a great party invitation!!