Thanks for joining me for I LOVE SKETCHES BY TSUNAMI ROSE Day 6!

So, I haven't been having the greatest scrapbook days these past two days. My Gypsy isn't holding a charge. I'm trying not to panic. . . . I'm trying to trouble shoot it. Tomorrow I'm going to try and update it. Cross your fingers for me! So to keep me busy I've gotten 16/30 sketches for next month ready to go! I plan on finishing up by the end of this week.

I'm calling out to those who want to be on my Design Team for the month of March. Please email me at
tsunami.rose@yahoo.com
if you are interested. Please include 3 projects you've done this year. You will get a preview of all sketches for the month of March as well as the order in which they will be posted. All your cards are due every night at midnight (PST) This is kind of a big project, a total of 30 cards, so I need reliable crew that can get things done! I'm looking for about 3-6 to join. You will receive a very nice thank you package for your participation. Also if you have a blog, I will give you a special badge to display and will link you 30 times if not more in the month of March, boosting your blog views! ;)



Today's Sketch is #14




By TSUNAMI ROSE


I'm really loving this DCWV Black Currant stack. I wanted to make an elegant card that you might be able to give for like a wedding. I love lace. I don't know exactly where I got each lace from, soooory! The greeting is from Studio G from Michaels. Love it, I bought like 5 packs but you don't tell anyone.
I LOVE SKETCHES BY TSUNAMIROSE Design Team Member- Tricia Colon

of Tricia's Place


She used the "Pemberley" paper line from Close To My Heart. And the card tag located on pg. 50 of the Art Philosophy Cartridge handbook. Thanks for making alternative projects! Love your gorgeous tag! Great job!

Abbie Kay of Powered by Fairy Dust




She used Black card for the base and Green card on the top she has used a border punch for the three borders at the bottom, Two punched Black flowers with tiny green gems in the middle and an image added lightly colored with Glitter gel Pens. To finish off a Thank you sentiment. Love the dark color scheme, Abbie! Gorgeous card!



Carissa Barbarossa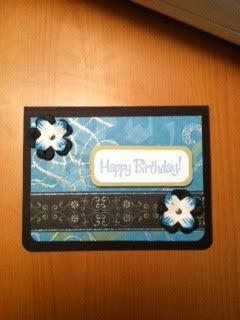 Love your card, Carissa! Great job!



Maureen Sherrill






Wow! Gorgeous card! I love the color scheme. Great work!