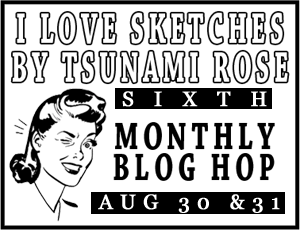 Thank you for joining us on the 6th monthly blog hop, hosted by me Daisy Collins creator of
Tsunami Rose Designs
!
This month our theme is a free style using 6x6 printables from the
Tsunami Rose Designs Zibbet shop
! Please make sure to visit my shop where you will be able to view all of my affordable designs! I create all of my designs with a vintage flair that is perfect for all of your shabby chic projects! And of course make sure to grab your copy of
August 2012 I Love Sketches by Tsunami Rose
which includes 2 free scrapbook papers!!
The blog hop rules are simple:
1. Comment on the participating blogs. (Leave a your email if possible)
3. Win a $25 gift certificate to spend on Tsunami Rose Designs Printables! As well as your own copy of August 2012 I Love Sketches by Tsunami Rose!
Want to be inspired daily?
Join our Facebook group
! View the daily cards of others also using I Love Sketches by Tsunami Rose and get weekly free printables!!
Check out our YT video for today's sketch!

AND PREVIEW THE NEW 8.5X11 PRINTABLE SCRAPBOOK PAPER THAT WILL BE AVAILABLE SEPTEMBER 1, 2012 IN THE TSUNAMI ROSE DESIGNS ZIBBET SHOP!
I love this adorable vintage clothes pins paper because it's just such cute image of the clothes pins.
Participating blog list:
1. Daisy Collins -
http://tsunamirosedesigns.blogspot.com/
2.Violet Foskey -
http://allthatscrap4him.blogspot.com/
3.Stephenie Smith -
http://www.sscrafter.blogspot.com
4. Lynne Kirsch ~
http://slasewcraftiness.blogspot.com/
5. Veronica -
http://createdbymeras.blogspot.com/
6. Anita Cannon ~
http://www.anitaandbugs.blogspot.com