Hi, thank you for visiting my blog. My name is Daisy, I'm 23 and I live in Vegas. I live with my husband and my two cats. I started scrapbooking not too long ago about fall of 2010. I've been a graphic designer for ten years now. I love to make 12x12 layouts as well as greeting cards and I've recently became addicted to mini books. :)
Today my good friend Veronica of
Scrapin' With Meras
had a scrapbooking get together at her house. I love going to this girl's house! It's like being inside a Michael's and getting to play with all the scrapbook items!!
I have recently joined
Mini Album Scraps
and I have joined 4 swaps. One is a mini album, the second is for an altered cigar box, the third is 6 greeting cards and the fourth is a junk journal. So I'm trying to get these all done in time by the due dates. At my last visit to Veronica I got the cigar box done. Today I wanted to make my 6 greeting cards, and I got all of them done in the 10 hours allotted, yay!
Card 1
For this card, my friend Mary suggested I incorporate some tags. I wanted to make this card in a kind of shabby chic, but I'm new to that style so this is as close as I got. I had recently bought some K & C die cuts and I'm in love with them ! Layout made by myself. :)
Card 2
I love to make my cards simple but elegant, and I was inspired by a LO I found online.
I'm not sure who did the card, but here it is to give them props.
I used my Cricut and the Cindy Loo cartridge for the Thanks cut out.
Card 3
A variation on Card 2.
Card 4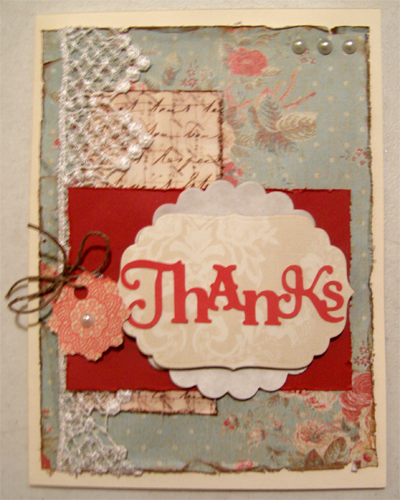 Inspired by
this
card, I adapted it for my taste and my need. I really liked the color combo. :)
Card 5
This was the first card I made tonight. I drew inspiration from
this
card. I cut out the scalloped shape from the Cricut Holiday Cakes cartridge. The Give Thanks is from the MS Seasonal Cakes I distressed the edges which set the mood for the rest of my cards tonight, LOL.
Card 6
This was a card that I just put paired up some of my K & C die cuts on top of a doily. In my head was a palette of beige, pink, purple. But I wanted something that would pop off the back ground so I decided on a bright green die cut. I am trying to go for more of a collage look. I'm still in the process of perfecting it. This layout is original to me.